StillMate 35L SS304 2x4 Plate Pot Still Make Moonshine Gin Whisky Bourbon Still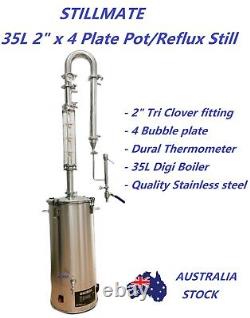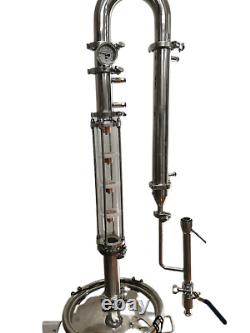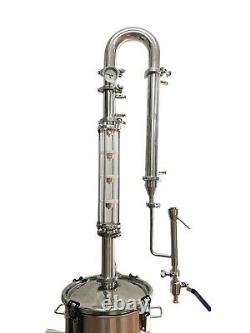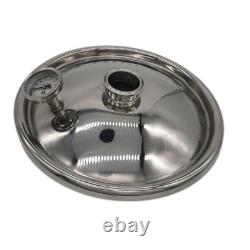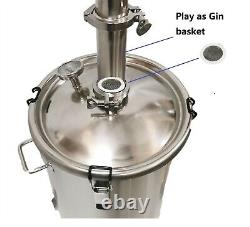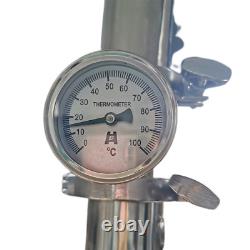 65L AlcoEngine Pure Distilling Ultimate Distillery Kit. 35L/65L StillMate 2-Inch Crystal Clear-Stainless Steel Modularized Pot Still Kit. 35L StillMate 2-Inch Full Stainless Steel Modularized Pot Still. StillMate 65L SS 3 Inch x 4 Plate Modular Still. StillMate 50L SS 3 Inch x 4 Plate Modular Still. 65L ALCOENGINE Copper Reflux Still. BREWZILLA (65L Robo Brew) All-In-One Single vessel Brewery.
35L Stillmate SS 2 x 4 Bubble Plate Modular Spirits Still. This is stainless steel 2 modular still with 4 bubble plate dash to make spirits.
This rig is the ultimate in distilling for those that want one still that can do it all, each plate means each distillation process to refining the spirits as neutral as it can. In principle the more plate you use the more neutral it will be, but it make less sense after 4 still/plate.
However, we can supply extra still plate modular/bubble tee to add-on yourself if you want a better setup. The still come with is a 35L digi boiler and heavy-duty stainless steel dome/lid which allow you run the still by electricity. You still can run this still as pot still if you don't run(or run less) cooling water on top of the 4 plates to grab more flavor from what you brewed. With the 4 of bubble plate the distillation shall run as 4 times of distillation/refining so that you will get more high quality of spirits you want.
Made of high-quality stainless steel. 4x 2 bubble plate column with crystal clear glass. Push-in fittings for cooling water in/out. Heavy-Duty stainless steel dome/lid with 2 tri-clover fittings.
Dual Thermometer which has 1 graduated degreel. 2 x 4 bubble plate in a glass tube. High-quality stainless steel S304 for rest of still parts. 4 X 2 Complete Bubble plate tube Assemble. 1 X Long Gun Condenser.
1 X Shot Gun Condenser. 1 X Parrot Complete Assembly. 1 X Top U Bend. 1 X 240V/2400W/35L digi boiler. 1 set of cooling water hose with push-in fittings and valve. All tri-clover seals and clamps required. It is legal to use a still without a license for either water purification or essential oil extraction. But You must have a license to produce alcohol using a still. It is not legal to separate water and alcohol in a still without a permit. We shall supply the still with pieces and parts, you need to assemble yourself when/after you receive it with instruction given. Please note that we shall NOT limited to use Australian Post as the courier to send your order except you asked. We shall choose courier by our favourite but will NOT impact the service as you paid. All the item/s need to be in their original condition, not worn or damaged or altered in any way. NOT APPLICABLE FOR ABOVE TERMS IF IT'S BECAUSE OF FAULTY PRODUCT- WE SHALL RESPONSE ALL COST FOR RETURN, 100% SATISFACTION GURANTEED! Please do not leave negative or neutral feedback without trying to resolve the problem by contacting us first!
We work very hard to make our customers happy and to protect our reputation. If you still choose to leave an inflammatory feedback, without giving us a chance to solve any problems, please understand your feedback will ALWAYS be responded by a NEGATIVE to you. So PLEASE try and solve any problems with us, before leaving inflammatory, malicious, or hostile feedback.
We are experienced Home Brewing Suppliers in Victoria for near 10 years, we only sell Quality Product and Provide Quality Service for all of our customers!