Reflux Still Copper Moonshine Still Distiller Alcohol 4,75 Gallon 18 liters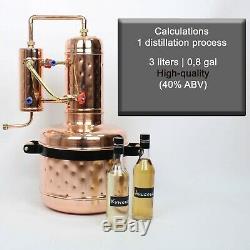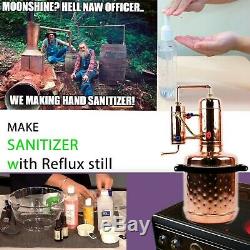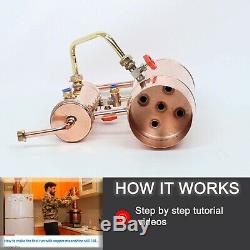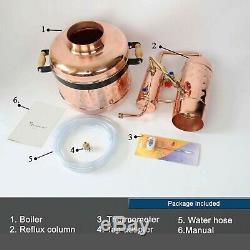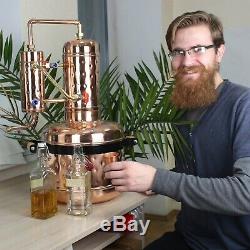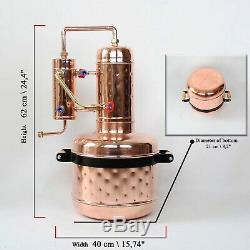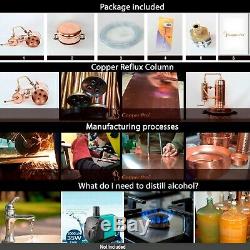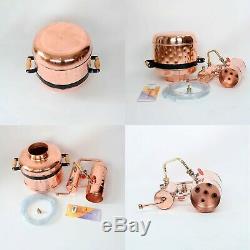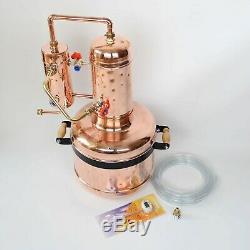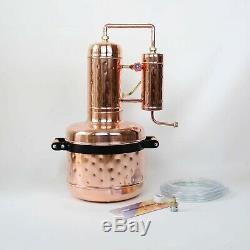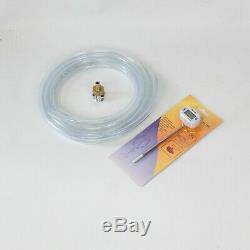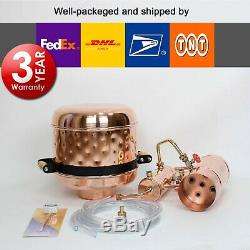 Copper Moonshine still 18 l \ 4,7 Gallon. What type of alcohol can I make with this copper reflux still? There can be a lot of debate among distillers over which type of moonshine still is the best. We would like to make it clear. This distiller has reflux (dephlegmator), it means that comparatively to pot stills, reflux stills are designed to create a higher proof with little to no flavor alcohol.
Reflux still is like a lot of pot stills assembled together thats why it can make multiple distillations in a single run. This is how vodka and rum are distilled and then just diluted to proof safe for human consumption. Reflux still is great for producing high-quality vodka, rum, grappa, tequila, higher proof whiskey. So, if you make mash from potatoes, sugar, malt, cactuses, mixed fruits, rests of grapes, or some dubious liquors -- we would recommend this copper reflux distiller.
Reflux column and copper material prevent you from small mistakes during the process and you will get high quality 60%-85% abv alcohol. For specially chosen fruits, we would recommend our pot stills, to save the origin flavor even if it takes more time. Few words about the process. Simply put, a reflux still is a specific type of still which is designed to create higher proof alcohol with a more neutral taste. Reflux still differ from pot stills as they have an additional condenser (called a reflux condenser or dephlegmator) at the top of the column which causes the alcohol vapour to condense to liquid and drip back down the inside of your column, turning back into vapour and traveling up the column again.
The cycle of vapour climbing up the column and dripping back down as liquid over and over again is called refluxing. This refluxing of vapour and liquid purifies the alcohol, leaving behind water and unwanted flavours until you have a neutral spirit. This refluxing of liquid inside of the column can be controlled by the flow rate of water going through your reflux condenser. A higher flow rate will result in the more cooling of the reflux condenser, therefore creating more reflux inside the column, resulting in a higher purity of ethanol. What is included in the package? Boiler & wooden handles, reflux column & condenser, thermometer, water hoses, tap adapter, manual. What do I need to start distilling? Central water supply or pump for circulating water to the cooler.
After receiving the distillate, you will need hydrometers to monitor ABV. Mash \ Prepared alcohol (distilled).
Why do we use copper? The first reason is the beauty of copper. Not just elegant to look at copper provides a smoother taste by removing strong-smelling sulfides. Major distilleries use copper for this reason.
From the moment you remove this reflux still from the box, you will realize how easy everything is. Thats because we have done all the complicated stuff for you. All units are fully assembled in our factory, tested to ensure you get the quality and yield you are expecting the first time, every time. Zoom in on the image to see for yourself: This distiller is high quality.
From the boiler to the joints to the way it all seamlessly integrates, weve used data-driven analysis to come up with the most efficient flavoring still. We dont slap our logo on anything All Copper Pro distillers are like a work of art to us. Weve honed, refined, and redefined every piece of this distiller until we got it right.
Because they are handcrafted in small batches supplies are limited and they sell out very quickly so please be patient. We promise theyre worth the wait! If anything goes wrong in the first 3 years of use (it shouldnt / they are designed to last a lifetime), we will fix or replace it for you.
We use only solid copper, have no breakable plastic parts, and an elegant design. How to make the first run with copper moonshine still 18l + dephlegmator - YouTube.
You can find our products on wbst Copper Pro (you can search on google). Your recognition will make us more confident to develop business and serve you better.
We understand the concerns and frustrations you might have, and will do our endeavor to resolve the issues. Please give us the opportunity to resolve any problem. Paying for items with a credit or debit card.
Find out how you can add, update and pay with credit or debit cards. To be eligible for a return, your item must be unused and in the same condition that you received it. Your item must be in the original packaging.
The item "Reflux Still Copper Moonshine Still Distiller Alcohol 4,75 Gallon 18 liters" is in sale since Friday, March 27, 2020. This item is in the category "Home & Garden\Kitchen, Dining & Bar\Brewing, Distilling & Wine Making\Equipment".ua" and is located in Kiev. This item can be shipped worldwide.
BTU: not provided
Final Product: Whiskey, Tequila, Brandy, Absinthe,Vodka, Rum
Country/Region of Manufacture: Ukraine
Item Height: 62 cm, 24,4"
Item Depth: 40 cm, 15,74
Kegging Gas Type: not provided
Item Width: 40 cm, 15,74
Material: Copper
California Prop 65 Warning: Doesn't need
Operation Type: Manual
Power Source: gas, electric stove
Installation: Stovetop
Type: Reflux still, moonshine still, alcohol distiller
Features: Lead free
Color: copper
Item Length: 62 cm
Capacity: 18 Liters / 4,7 Gallon
Thickness: 1,5 mm
Modified Item: Reflux column
Volume: 4,7 gal
Guarantee: 3 years
Handled process: 2 days
Delivery: USPS (11-14 days)
Brand: Copper Pro
Includes: water hoses, taps, thermometers
Manufacturer Color: copper
Weight: 6,5 kg, 2,2 Lbs
Item Diameter: 21 cm
Size of package: 57 × 38 × 47 cm
Hose & Tubing Size: 3 m
Voltage: In case of using electric stove