One Stainless Steel Moonshine Still Alcohol Whisky Wine Alembic Still Brewing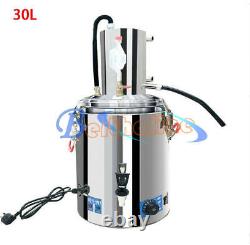 One Stainless Steel Moonshine Still Alcohol Whisky Wine Alembic Still Brewing. Complete distillation equipment, suitable for beginners or professional distillers, easy to operate and install. Capacity: 23 liters / 5 gallons, material: 304 stainless steel, fermenter size: 34 x 49 cm. Equipped with a steaming pan to achieve a liquid state, the solid material is simultaneously distilled to make the flavor of the wine more diverse. Large-capacity cooling water tank: 161625.5CM, good cooling effect, fast wine production, high output, 5KG rice can be distilled about 50 degrees white wine about 4KG. The improved cooler has a low temperature, good wine quality and a mellow taste (the output is a relatively accurate reference data, but the exact alcohol content and yield vary depending on the way the grain is fermented and distilled).
The lid and the wall of the barrel are double-layer insulation design, heat-insulating and anti-scalding, anti-dry design, and safer. 220V plug-in heating method, energy saving and environmental protection, fast heating.
30 ° C - 110 ° C freely adjust the temperature suitable for the occasion, fermentation, distillation. Multi-purpose, our products can be used for seawater distillation, steam distillation and distillation of alcohol. You can make different kinds in the moonlight still life such as alcohol, such as fermenter, fermented wine, ethanol, whiskey, water distiller, wine, essential oil, rice wine, beer, wine, soy sauce and vinegar.
The distiller has a beautiful appearance and is designed with an independent air passage to make the distilled water rise faster and the conveying purity is higher. It can be used to distill fruit wine, distilled water, purified water, distilled brandy and refined plant extracts for medical use.
Made of high quality professional food safety grade 304 stainless steel, send yourself and your parents a healthy, and send a beautiful woman. Brewing pure dew to mother, lover, and retaining the beautiful face of your loved one. Brew brandy, pure grain white wine, and share it with friends and family. Material: professional food safety grade 304 stainless steel. Type: wine, liquor, wine purification equipment. Length of wine pipe: about 29CM.
Temperature adjustment range: 30 ° C -110 ° C. The amount of alcohol produced: In the case of rice, 5KG rice can be distilled out to about 4KG of 50-degree liquor. Uses: wine purification, distillation of various liquors, fruit wine, brewing of food, distillation of liquor, brandy, pure dew, distilled water, fermenter, distillation barrel, sealed barrel, thermostat, pharmaceutical, food, etc. Wash the equipment with water before use. The submersible pump must be placed in the water to work, not to dry.
The temperature of the condensate should not exceed 50 °C. It is easy to damage the pump when it is working at high temperature for a long time.
After receiving the equipment, if you find that the screw position has water seepage during the test, please don't worry, wrap it with raw tape. In the case of excessive slag, be sure to use the slag separation bag for filtration to avoid the paste pot, which can extend the service life of the equipment.
Do write to us and give us an opportunity to address your concerns firstly. We are not responsible for undeliverable address. We will be happy to assist you. We would try our best to serve you with any question / problem.