Moonshine Still Distiller 3Gal 12L 2pot Stainless Steel Distillation Pot Copper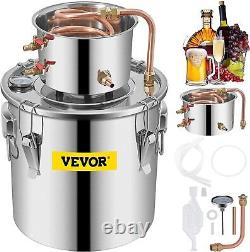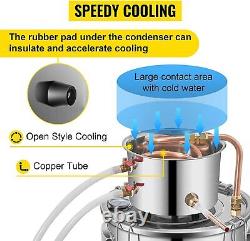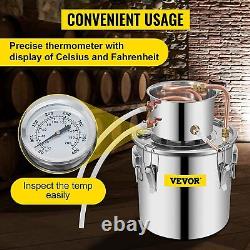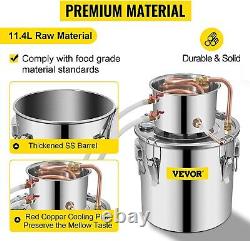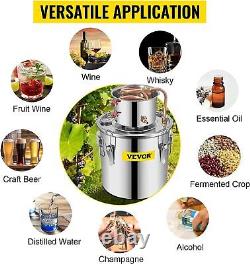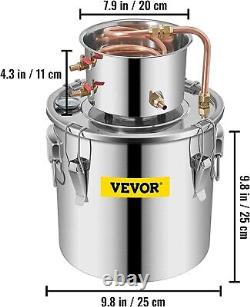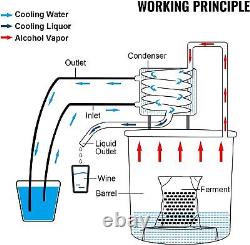 Moonshine still machine owns 3.3 US GAL real capacity, able to distill 12.3 liters of raw material by heating to selectively boil and then cooling to condense the vapor. Boiler barrel: 10" x 11.8" (25 x 30 cm). Condenser: 7.9" x 5" (20 x 13 cm). All parts are made of food grade material including silicone, stainless steel and copper.
This water distiller adopts open-type cooling method, copper coils with rapid thermal conductivity assures promising cooling performance together with large contact area with the coolant, providing a rather low temperature of distilled product. Precise thermometer with double display of Celsius and Fahrenheit on the lid for easy monitoring of wine temperature during distillation process. Circulating water enters through lower inlet and drains from upper outlet for efficient cooling. Unlike soft tubes, we use food grade silicone tubes with flexibility and toughness that won't bend easily to ensure expedite water flow.
Four quick clips along with silicone gasket inside the lid facilitates tight sealing. One-way air evacuation valve involved for application in grain fermentation process. Brilliant for both beginners and experts for distilling fruit wine, distilling water, purifying water, distilling brandy and refining plant extracts for medical purposes. Thickened bottom allows all kinds of heating methods including gas stove, ceramic stoves, electric coil stoves, etc.
3 Gal Alcohol Water Distiller. Stainless Barrel & Red Copper Coil & Open-Type Cooling. A full set of alcohol distiller, suitable for beginners and experts, with excellent cooling performance. Can be used to distill fruit wine, water, brandy and essential oils, apply for various heating methods like gas stoves, firewood, and electric ceramic heaters. The capacity of alcohol stills is 3 Gal, which can match up with 11.4 liters raw material.
Boiler barrel: 9.8" X 9.8" (25 x 25 cm). Condenser: 7.9" X 4.3" (20 x 11 cm).
Suitable for you to enjoy leisure time with your families or friends. The copper coil with fast thermal conductivity ensures good cooling performance and a large contact area with the coolant. The cold water is stably supplied to the lower inlet, and the hot water is discharged from the upper outlet to achieve efficient cooling. The built-in Celsius and Fahrenheit thermometers can make the distillation more controllable and accurate. The operator can quickly check the temperature while running the still, to ensure a better distillation effect. Cooling water circulation is required when the temperature reaches about 80 degrees.
We use food-grade silicone tubes with greater flexibility to ensure a better seal, and four upgraded sealing buckles and silicone sealing rings make it a tight fit. The upgraded one-way exhaust valve makes it easier for you to control and brew water or wine. All parts are made of food-grade materials, and the boiler is made of stainless steel; the cooling pipe is made of top-grade copper, and the fermentation tank has been specially thickened to ensure that the final product has a better taste and smell. Our distillery kit can be used in different situations, such as alcohol, ethanol, whiskey, distilled water, brewing, essential oils, hydrosols, etc. As long as you have this device, you can meet various needs, and it allows multiple heating methods, including gas stoves, firewood, electric ceramic heaters, etc.
1 x One-way Air Evacuation Valve. 1 x Set of Accessories. Material: Stainless Steel + Red Copper. Boiler Barrel Capacity: 3 Gal / 11.4 L. Boiler Barrel Size: 9.8"x9.8" / 25x25 cm.
Condenser Keg Capacity: 0.92 Gal / 3.5 L. Condenser Keg Size: 7.9" x 4.3" / 20x11 cm. Barrel Thickness: 0.03 / 0.7 mm. Copper Coil Diameter: 0.39 / 10 mm. Weight: 8.2 lbs / 3.74 kg. This item is in the category "Home, Furniture & DIY\Cookware, Dining & Bar\Brewing, Distilling & Wine Making\Equipment". The seller is "sgl008" and is located in this country: CN. This item can be shipped to United Kingdom.
Size: 12L
Final Product: as detail
Type: as detail