Moonshine Still 10 Gallon StillZ Heavy Duty Copper Still+Thumper+Worm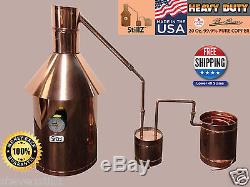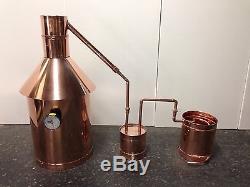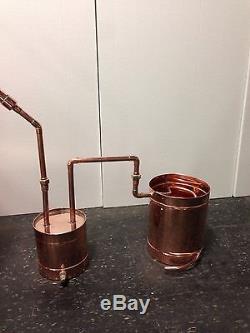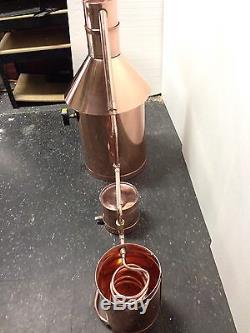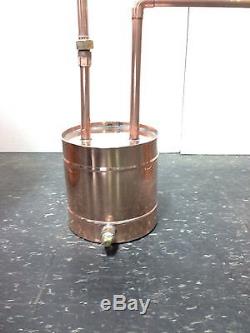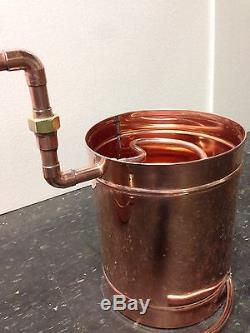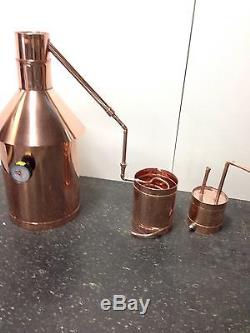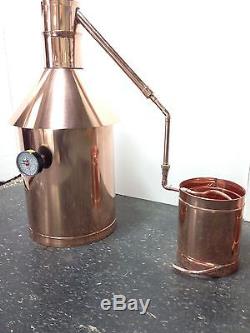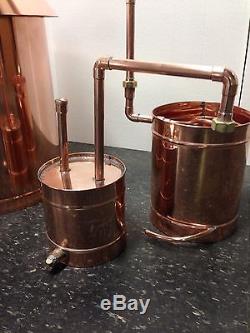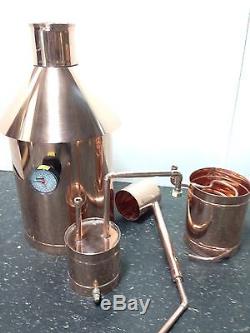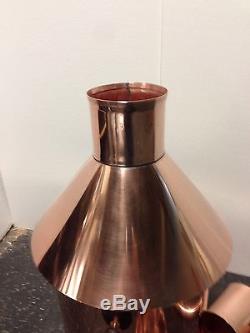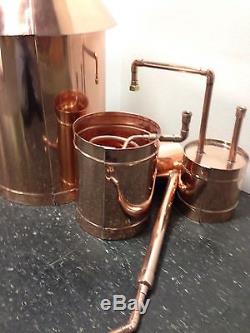 Included in this Moonshine Still Kit. 10 Gallon Handmade Copper Moonshine Pot.
45 Degree Copper Cap with 1" to 1/2" Copper Reducer Tube to thumper 1/2 Copper Tube. 1 Gallon Copper Moonshine Thump Keg Thumper. 1 gallon 3/8" Coiled Copper Moonshine Worm Condenser with 3/4" Hose Brass Hose Fittings.
Professional High Quality Winters temperature gauge. Other builders of stills are offering stills built using 16 oz.
That's NOT RIGHT, You will GET BURNT! 16 oz Copper is too flimsy to hold the weight of your mash!!!
Stills Built With anything less than 20 oz. This is a 10 Gallon Gas (Burner Not Included) Fired Copper Moonshine Still. It Can Produce Over 8 Quarts of High Gravity Distillate in a Single Run. Do you Really Want to Risk Getting Hurt to Save a Buck?
The people that are offering them usually have a low feedback score and do not disclose any key details about the fine points of the construction and materials used to build a quality piece of distillery equipment. There Are a Lot of Copycats of my Stills but None Even Come Close. I Will be in Business Years from Now..
Will They be in Business Tomorrow? Artisan Built High Quality Heavy Copper Moonshine Still. Head to Head with My Competition. My Son Builds Stills, My Dad Built Stills and My Grandfather Built Stills as did the Generations Before Him. Here in the Appalachian Mountains, High Quality.
Have Been a Way of Life For Hundreds of Years. Compare My Stills to the Other Manufacturers. My Family has been in the Copper Still business for generations. Will the other guy be in business tomorrow?
Ask them if they use 20 oz. Copper manufactured by Paul Revere Copper Company, the world's premier maker of food grade copper. Ask them about their Copper Moonshine Still making experience. My family has been building quality Copper Stills for generations.
Ask them if their stills are made in the USA. Many are made in China or by other Asian Exporters. These stills are questionable at best. My Stills are Built by Copper Artisans. If they say they can deliver your custom still in 2 or 3 days, dont believe it.
My Moonshine Stills are more affordable although they are built better than ANY still available. I DO NOT Use Cheap Roofing Copper that Contains Lead.
See if You can Find Another Builder of. THEY ALL DO or they will lie to you.
This Copper Moonshine Still is Perfect for Beginners or for Use as a Spirit Still. Built Using the Thickest Copper for this Type of Still. You will be Impressed with the Quality of this Still or. My Moonshine Stills are Built to Last. Other Sellers Have Tried to.
But They Don't Even Come Close. How can I Offer Such a Well Built Heavy Copper Moonshine Still. At an Such Unbelievably Competitive Price?
Copper in Bulk from the. Passing on the Savings to YOU! Copper for the Price of 16 oz!
No One Builds Stills like. Is Built to Hold the. 10 Gallons of Mash Weighs in at Around 100 Pounds.
Copper is Constructed to Hold it. Is the Best Built Still you will Find and will. Out Perform any Copper Moonshine Still. And if You're Serious About this Hobby. This is the Still you Want.
I also offer 25, 30, 50 and 60 gallon Moonshine Stills and. Custom Built Micro Distilleries up to 300 Gallons. " 10 Gallon Moonshine Copper Still" with Thumper and Worm. Moonshine Still Pot 1 gallon Thumper 45 Degree cap with 1" reduced to 1/2" Copper tube to thumper 1/2" Copper Tube 3/8" Worm with hose connections All Silver Solder With Winters Professional Temperature Gauge. Hand made, polished and fully tested.
The pot, thumper and worm are all machine rolled , hemmed and beaded. Fill it with your mash and seal the cap using Teflon plumbers tape of black electrical tape for a clean seal and your'e ready to go!
This Moonshine Still is Not "Slapped Together" There Was a Lot of Time and Skill Used in the Construction of this. This still does not need to be used in a straight configuration. Use With or Without Thumper.
The thumper is attached to the pot and worm using copper to copper fittings allowing you the option of moving the pot and worm closer or further apart depending on your needs. Notice the Drain Plug on the Thumper... This Copper Moonshine Still will Produce a Finished. Product at 57 Degrees (Very Important) Using only Cool Tap Water in the Worm. Made with Heavy 20 oz.
, Brass Fittings, all Silver Solder and Water Soluble Flux. A Great Addition to Your "Mantown" Collection of Fire it Up.
Was Fully Tested and Works Great. There are Many Uses for this Still and You Probably Know, Most are Regulated by the Federal and Local Officials. The item "Moonshine Still 10 Gallon StillZ Heavy Duty Copper Still+Thumper+Worm" is in sale since Tuesday, June 21, 2016. This item is in the category "Home & Garden\Food & Beverages\Beer & Wine Making".
The seller is "stevenstillz" and is located in Nashua, New Hampshire. This item can be shipped worldwide.
Food Specifications: 99.9% Pure Copper
Country/Region of Manufacture: United States
Brand: StillZ
MPN: Does Not Apply