Home Moonshine Alcohol Distiller 10litre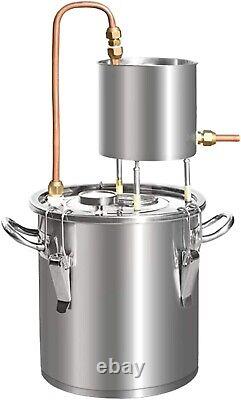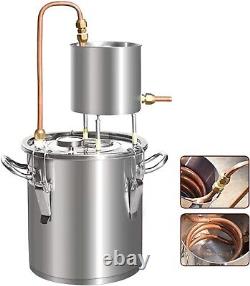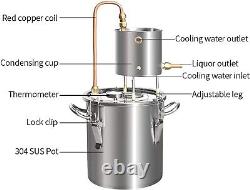 10 Litre Still box opened but never used. Moonshine still machine owns real capacity, able to distill of raw material by heating to selectively boil and then cooling to condense the vapor. This water distiller adopts open-type cooling method, copper coils with rapid thermal conductivity assures promising cooling performance together with large contact area with the coolant, providing a rather low temperature of distilled product.
Precise thermometer with double display of Celsius and Fahrenheit on the lid for easy monitoring of wine temperature during distillation process. To prevent Burn Out, and has much better on distillation. Circulating water enters through lower inlet and drains from upper outlet for efficient cooling.
All the parts are made of food-grade materials, The fermenter is specially thickened. Unlike soft tubes, we use food grade silicone tubes with flexibility and toughness that won't bend easily to ensure expedite water flow. Four quick clips along with silicone gasket inside the lid facilitates tight sealing. One-way air evacuation valve involved for application in grain fermentation process.
Complete distillation equipment, suitable for beginners or expert distiller, easy to handle and installation. Thickened bottom allows all kinds of heating methods including gas stove, ceramic stoves, electric coil stoves, etc.
Cooling pipes material: top grade red copper Welding technique: The item is argon welded to avoid any of the health issues associated with welding and solder constructed alcohol stills. Heat source: induction cooler, stove, or any other heating sources are OK! You will need (NOT included)? Yeast, water supply, heat source(I suggest use induction cooker or gas stove).