Distillation cube Still 25 l. Destyler Alkohol Maker Moonshine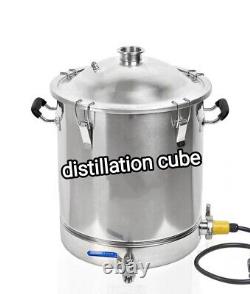 The alembic 25 l is one of the most versatile and convenient solutions. The cube is made of AISI 304 food grade non-magnetic stainless steel, 1 mm thick, the lid of the cube is spherical, with a volume of 1.8 liters, allows you to fill the cube "to the eyeballs", and also increases the steam zone of the cube, which reduces the effect of "splash entrainment" during the distillation of foaming mash. The lid is fastened on four convenient spring clips-clamps, which greatly simplifies the work with the cube. Keeping the clamps cool means you won't have to wait for the cube to cool down, rubberized handles allow you to work with a hot cube, and a stainless steel drain valve with a rubberized handle allows you to drain a hot stillage. All these factors lead to minimization of time losses during continuous operation.
On the inner wall of the cube there is a convenient scale with displacement marks. The cube has a stiffening rib for installing a false bottom (optional) for mashing, which makes the distillation cube versatile. Now you have the opportunity to carry out not only distillation, but also mashing for whiskey, as well as brewing beer. The distillation cube for 25 liters is equipped with a three-layer ferrimagnetic bottom, which allows the cube to be used with any heating surfaces, including induction cookers. The distillation Cube for rectification is equipped with a clamp for a heating element.
The lid of the cube is equipped with a 2 inch clamp. Also, by default, a convenient nipple for a thermometer or automation is built into the lid of the distillation cube to control the temperature in the steam part of the cube and automate the rectification process. Included heating element 3 kilowatts. Food grade stainless steel AISI304.
Dimensions (diameter/height with clamp): ~ 30cm/45cm. Lid volume: ~ 1.8 l. Cover thickness 1.2 mm.
The wall thickness of the cube is 1 mm. The bottom thickness is approximately 5 mm. The bottom is flat, three-layer, with an aluminum layer for even heat distribution.
Bottom material AISI 430 (magnetic food grade stainless steel). Coupling for a tap with an external thread 1/2. Stiffening rib for installing a false bottom at a distance of about 80 mm. Number of clips 4 pcs.
Approximate (L / W / H, weight).