Copper Moonshine Still Liquid Management Bokakob Reflux Ethanol 2 fits beer keg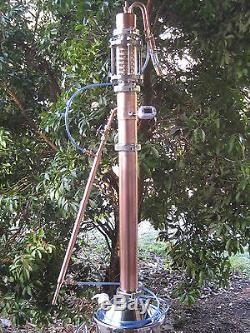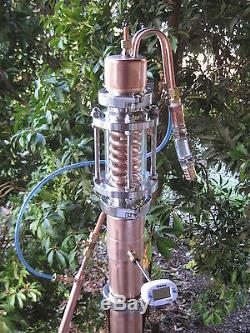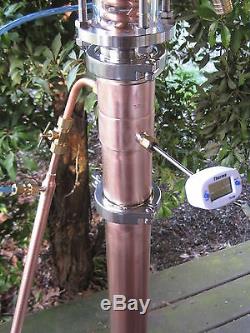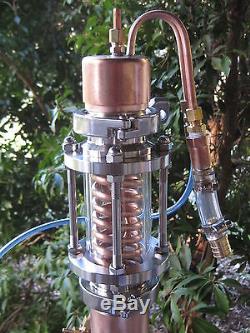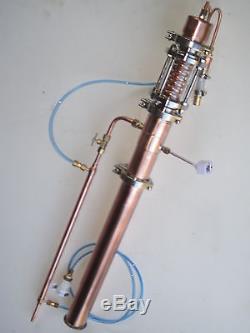 Olympic Distillers Liquid Management Still Column. This still will put out 2-3 gallons per hour on a stripping run. Yes, that's right, a 2 still that puts out 2-3 gallons per hour! See it run on video at olympic distillers. Time is 3 weeks for this item.
Extensive testing and design modifications have brought this still up to its maximum output. It will put out 1-2 gallons per hour at a high proof if the still is slowed down and allowed to reflux. Attaches to most modern beer kegs. This compact unit will put out 185+ proof ethanol. Tall columns are not needed when the engineering of the unit is done properly.
It runs fast and will produce over a gallon and a half per hour under optimal conditions. The output collection point of this still can be set up in many different configurations with some alcohol resistant tubing or additional 1/4 O.
Copper tubing and some 1/4 compression fittings (very cheap) - see photo. Product cooler is fully adjustable and detachable. Packing kit, cooling hoses and digital thermometer included. This is a complete ready to run distillation column with nothing left out. All you need is a beer keg or a distiller kettle. Products are ready to go! The operating principles of this unit are simple. Vapor rises through the packing until it passes through the top of the separator. At this point it hits the coil condenser and is transformed into a liquid.
It then falls into the collection cup where it can be recycled back to the column through the standpipe for increased purity, or it can be released through the product cooler and collected as a final product. Product release rate can be controlled with the needle valve above the product cooler. This still can be run in full reflux indefinitely with no pressure buildup. Most liquid management stills such as a Bokakob design do not have a product cooler and the final product comes out hot and steamy. Much vapor is lost with this design.
This still puts out a cool product with no vapor loss. 3 piece distiller column with clamps & gaskets. Coil condenser & product cooler.
3/4 lb of copper mesh packing. Also known as a compound still, this apparatus can make 95% pure ethanol if you have the proper permits or if you live where it is legal to do so.
It can also transform seawater or pond-water into fresh, clean, drinking water. It can be used to collect essential oils and make perfumes. It is a great survivalist device to have on hand in case of a major disaster.
We use only silver solder. And 56% food grade silver brazing to construct this device. It is built using the same methods that professional distillers use to build their stills.
The distiller column is made from 2" diameter type L copper pipe and is 33" tall. We do not use cheap thin-walled DWV pipe like our competitors.
Our still columns and condensers are all made from copper pipe because it conducts heat better than stainless steel. This allows for better control and stability, and improves the outcome of the final distillation in terms of flavor. Copper also reduces bacterial contamination (which is why it is also used for water pipes) and absorbs the sulfur produced during fermentation. Copper has been used to make stills since ancient times, and as successive generations have found, it remains the best option thanks to its unique properties and natural advantages in the distilling process.
For superior results, use copper like the master distillers do. Ommercially mass produced Chinese stills are made from stainless steel only because it is cheaper than copper. Our stills are designed to combine the best of both worlds, the durability and ease of cleaning that a stainless steel kettle has to offer, combined with the natural advantages of a copper column and condenser.
The 2 stainless steel ferrule on the bottom of the unit allows the column to be clamped onto any stainless steel beer keg or commercially available kettle. The condenser is fully adjustable and detachable for cleaning and storage. This distiller can be hooked up to a garden hose or a submersible pump, which can be used for a recirculating cooling system if a garden hose is not an option. Ll of our distillers are 100% guaranteed. Hese units are made professionally from high quality materials and will deliver professional results.
They are built to last a lifetime and can be passed on to future generations. This still is capable of producing 6 Liters (1.5 gallons) per hour on a finishing run! This product is proudly hand made in the USA.
Assembly and cleaning instructions included. Thanks for shopping at Olympic Distillers!
The item "Copper Moonshine Still Liquid Management Bokakob Reflux Ethanol 2 fits beer keg" is in sale since Wednesday, December 6, 2017. This item is in the category "Home & Garden\Food & Beverages\Beer & Wine Making". The seller is "olympicdistillers" and is located in Port Angeles, Washington.
This item can be shipped worldwide.
Brand: Olympic Distillers
Model: Liquid Management Still
Country of Manufacture: United States
MPN: Does Not Apply
Country/Region of Manufacture: United States
Featured Refinements: Copper Moonshine Still
Type: Keg