Copper Moonshine Still 6 Gallon Water jacket still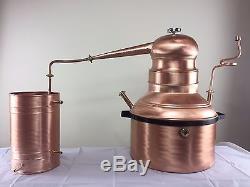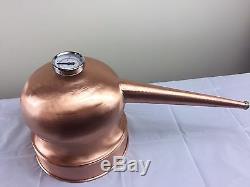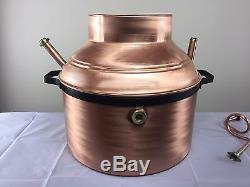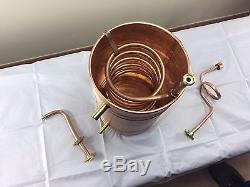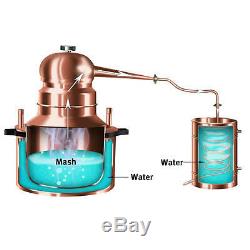 Copper Moonshine still with "water jacket" Model Bagno Maria Model code A23LSB Volume 23 liters The still consists of following elements: Helmet (serves to increase the fortness of the vapor and exhaust vapor into the cooling container) Boiler is equipped with the "water jacket" and the container for materials (the container serves for heating the distilled raw material and the "water jacket" serves like an additional buffer between the heating element and the container with materials) The tube at the boiler to add water The tube at the boiler to control the level of water inside of the boiler Screw Cooling container with the coil (fridge, serves to condensate the vapor of distilled raw materials) Water inlet pipe Water outlet pipe Distillate output pipe INCLUDED OPTIONS: Thermometer Instructions SPECIFICATION: The copper still Bagno Maria is perfect for distillation of any raw materials, containing fruits, berries, corn, potatoes, grain and other plant components. If the process of distillation is carried out in a usual still, there is a risk of raw materials burning at the walls of boiler. The boiler of Bagno Maria still has an additional section jacket, which is filled with the water.
Such technology allows to carry out the distillation process using the plant raw materials, because the boiler with the liquid inside is heated evenly and slowly. The main difference between the Bagno Maria still and the Serpentina still is the presence of two tubes which are located at the boiler of the still. The first one tube is used for supplying and discharging the treated water of the boiler and for discharging the steam. The second one tube has the glass flask which allows to control the level of the water in the boiler.
Cooling container: Diameter 21 cm. Copper thickness: 1,2 mm Weight: 11,5 kg.
Products are made of lead-free materials. Certificates for materials can be provided by your request.
The item "Copper Moonshine Still 6 Gallon Water jacket still" is in sale since Thursday, June 22, 2017. This item is in the category "Home & Garden\Food & Beverages\Beer & Wine Making".
The seller is "negoziodirame55" and is located in Agnone. This item can be shipped to United States, all countries in Europe, Canada, Japan, Australia.
Country of Manufacture: Italy
Brand: LaRamera
MPN: A23LSB
Country/Region of Manufacture: Italy