Copper Alcohol Moonshine Ethanol Still E-85 Reflux HD10-30 10 Gallon Boiler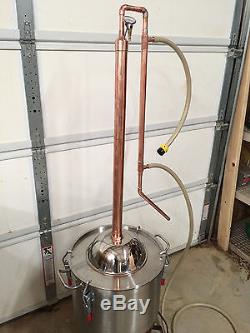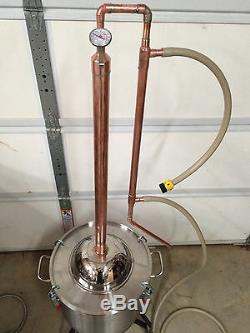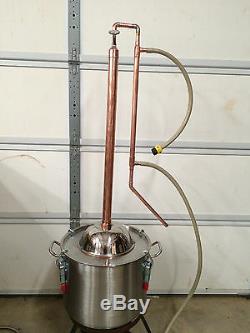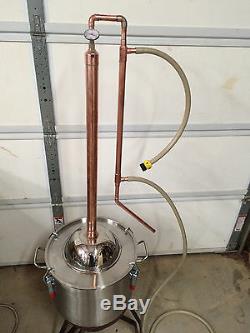 For more photos, options and details of this unit see. Please visit and like RockyTopStills on Facebook.
RockyTopStills web site for more information. Full instructions showing you everything you need to set up & run, fast and easy. Everything you need to run is included including complete step by step instructions. What you get in this package. Stainless Steel boiler with lid clamps.
Water hose for water in with garden hose female connector. Water hose for water out. Link to online eBooks with lots of information on distilling and complete instructions. Please Note: I no longer send a CD. I now have all the eBooks online for easy download.
Owning this still is legal for distilling essential oils and water. It is also legal to own a moonshine still, for display and show. Always check local laws, as they may differ from area to area.
This is a proven design that is a pot still by design that can get some reflux action by adding a packing material like copper or stainless steel mesh to the large column. The column main body is made from 1.5 diameter X 30 long Copper. The overall height of the complete unit is approx 52. Cooling is achieved with a copper condenser tube, so no copper cooling coil (WORM) is required. Same as the HD10 model except made with a 30 tall Column.
The still is made with a Professional Commercial Grade 10 gallon , 40QT (Quart) Heavy Gauge Stainless Steel Boiler, Encapsulated Bottom , Induction Ready, NSF Certified. Boiler Dimensions: Approx 15 x 15 inches. With an additional gallon of vapor space in the domed top.
The Large dome vapor chamber top increases surface area to increase fractional distilling and helps catch and funnel the steam into the large column. It also allows you to add more liquid to the boiler without foaming up into the column.
The overall height of the assembled still is approx 52 inches. The lid has a tight chemical resistant seal. It clamps with locking Toggle clamps that are adjustable to form a tight seal. This seal is much easier to use than the flour and water homemade seal that has to made and applied every time you use your still.
However if you like traditions I have made this seal very easy to remove if prefer the flour dough type. I also have included complete instructions with photos on making a dough paste seal. The column removes from the boiler for easy cleaning and storage and is also includes the safety blow off system in case you clog or choke the still. The still is made from stainless steel and copper, nothing to leach any chemicals or off taste into your finished product. This still is new and never used. This is a hand crafted Homemade Still. No two are exactly alike, stock photo. The still is made from stainless steel and copper and is lead free; no toxic material was use in the building of the still. Included with the still are eBooks on. Also include are recipes like. JD's Black Label Recipe. This still does require running water, plastic or rubber hoses for hook up. I have included the hoses to the condenser. The water inlet is a standard ¾ inch garden hose type. There is nothing else needed with this still. Just load it up and add your own heat source and you are off and running. A heat source, mash, and a water supply from a garden hose, kitchen sink, Pump, etc. Output is determined by the starting % of the mash.
Mash is typically around 15% but you can get up to 23% if you use turbo yeast. Output is staring % times volume. 15% mash X 5 gal pot =. Recycle used cleaning fluid and alcohol. Steam Herbal Essential Oil Extraction.
For production of flavored extracts to flavor spirits and food. Setup and operating instructions are included with each unit eBook format. Instructions will also include pictures of correctly setup units so you know exactly what yours should look like. Unit works on a stove top, Hot Plate or outdoor propane burner, is easy to clean and easy to store.
2 Defective Items will be replaced with the same model at the sellers cost. 6 Any questions at all we will be happy to help you. We look forward to your business. It is illegal to distill alcohol in the United States without proper licensing.
Please, do not use this item for the distillation of alcohol unless you live where it is legal to do so or have the proper permit. Fermentation instructions and materials are provided to create a beer or wine product which is legal in the United.
And for educational information only. Q: What type of heat source works best? A: A gas burner or hot plate works very well. Q: Will this unit work on an induction stove? Only the HD model stills has been tested and are recommended for Induction Heat. The NR models are not Induction heat ready. Q; What does encapsulated bottom mean? A: That means the bottom of the pan includes a layer of copper or aluminum to ensure even heat distribution.
Why do you want it? Better heat distribution all the way up the sides of the pan. One-piece construction is stronger than a base that is bonded onto the bottom.
What that means to you. You can cook on a lower temperature so there is less chance of burning and sticking on the bottom. Q: What Does NSF-Certified Mean? A: This NSF certification ensures that the products designed for you to use at home meet the same public health standards as those used in hotels, restaurants, schools, hospitals, anywhere in the food service industry.
These standards include testing materials, construction techniques, as well as cleaning requirements. Q: What Does Induction ready Mean? A: Induction suitable or ready means it works well with induction burners that use magnetism to heat the pan directly on the stove top.
Q: What is the output rate per hour, day etc. A: Output is determined by the starting % of the mash. Mash is typically around 15% but you can get up to 23% if you use a turbo yeast. Q: I saw it posted somewhere that this really is not a reflux still, its a pot still and one cannot distill spirits to a high level, i.
Cannot make vodka on this still. It is not a true reflux, my design is different. I state that you will get reflux action by packing the column. You can get 140 to 150 proof with the 15" column, 150 to 170 proof with the 30" column and 110 to 125 from the 8 column, depending on your set and how you run it.
You will get even higher proof if you pack the column; this is a higher proof than you get from a traditional pot still. Q: What is reflux and how does it work? It would be impractical to have an enormously long tower to achieve the separation we require. Fortunately, there is a little trick that may be used to keep the tower to manageable proportions, yet provide excellent separation. Left to its own devices, the tower works by condensing out richer and richer mixtures the higher you go, the condensate running down again until it re-vaporizes and improves the separation.
You can hurry this along by making the column shorter and putting a condenser on top. In washing down the packing this liquid, which evaporates and rises again, causes the top of the column to become very enriched with the lightest fraction. The column compensates for this rude interference by compressing the separation between fractions lower down in the column, but this doesn't matter so long as we confine ourselves to extracting from the top.
Q: Can you run it without the steel mesh you was talking about in the column and do you sell it? A: Yes you can, it is not required but helps give a higher proof output.
I do not sell it. Q: How many gallons per minute pump would I need?
A: NO PUMP REQUIRED, but if you want to use one. The small fountain pumps others offer with there still is not large enough unless you fill for cooling bucket with ice. This is expensive and inconvenient.
Thats why I dont offer one with my stills. The item "Copper Alcohol Moonshine Ethanol Still E-85 Reflux HD10-30 10 Gallon Boiler" is in sale since Monday, August 31, 2015.
This item is in the category "Home & Garden\Food & Beverages\Beer & Wine Making". The seller is "bigorangestevve" and is located in Bowling Green, Kentucky. This item can be shipped to United States, Canada, United Kingdom, Denmark, Romania, Slovakia, Bulgaria, Czech republic, Finland, Hungary, Latvia, Lithuania, Malta, Estonia, Australia, Greece, Portugal, Cyprus, Slovenia, Japan, China, Sweden, South Korea, Indonesia, Taiwan, South africa, Thailand, Belgium, France, Hong Kong, Ireland, Netherlands, Poland, Spain, Italy, Germany, Austria, Israel, New Zealand, Philippines, Singapore, Saudi arabia, Ukraine, United arab emirates, Qatar, Kuwait, Bahrain, Croatia, Bahamas, Viet nam.
Model: HD10-30
Country/Region of Manufacture: United States
Type: Still
Brand: Rocky Top Stills
Country of Manufacture: United States
Featured Refinements: Copper Moonshine Still