Beer Keg Kit 2 inch Copper Pipe Moonshine Pot Whiskey Still- KEGS NOT INCLUDED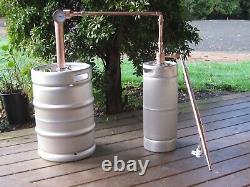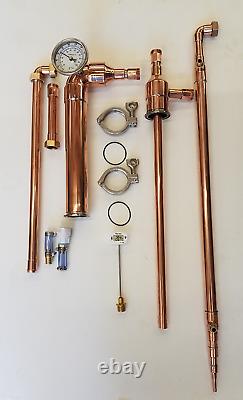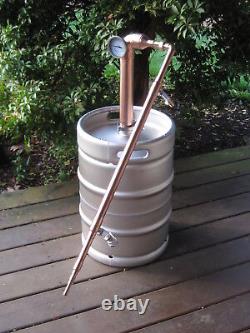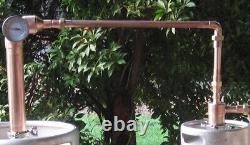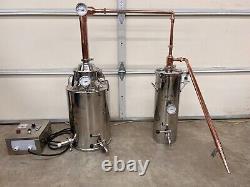 A proven traditional still design made with modern equipment. This setup uses our 2 pot still along with our beer keg thumper attachment. All piping is 3/4 inch.
Stainless steel kegs or kettles will retain heat much better than copper pots, causing the still to run faster and be much more stable during operation. Made with heavy gauge type L copper pipe.
This listing is for the copper parts only. Kegs/kettles and heat source not included. We do not use cheap, thin walled Drain Waste Vent (DWV) pipe on our stills like many of our competitors. This still is capable of producing 170 proof at a rate of 2 gallons per hour on a spirit run (2nd run).
No modifications to your beer kegs are necessary to use this kit. It comes with the necessary clamps & gaskets.
This still comes with everything you see in the photos except the kegs. The liebig condenser can be attached directly to the still head and used as a stand alone pot still for stripping runs. No worm condenser is necessary. Garden hose attachments clamps, gaskets & digital thermometer included. Parts come soldered and polished.
These units are made professionally from high quality materials and will deliver professional results. They are built to last a lifetime and can be passed on to future generations. Is product is proudly hand made in the USA. We stand behind our work! Assembly and cleaning instructions included.
Thanks for shopping at Olympic Distillers! Home distillation of alcohol is illegal in the USA and in many other countries.
We strongly discourage any unlawful use of this product, and we will not be held responsible for any injuries or damages caused by unlawful use or misuse of this product. In the USA, a Federal permit is required for making ethanol fuel.