Beer Keg Kit 2 inch Copper Pipe Moonshine Pot Still Distiller Column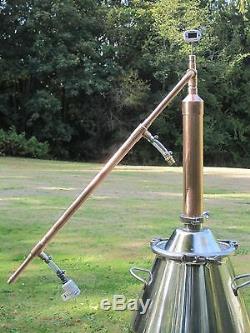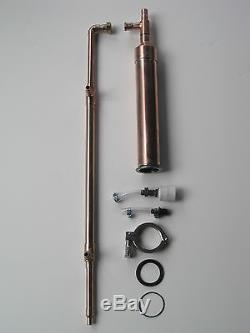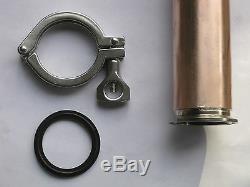 Get Vendio Gallery - Now FREE! Pot Still Keg Kit - fits on a beer keg or professional distiller kettle.
This still is capable of producing 2 gallons per hour at 120-140 proof. This listing is for the column & accessories only. These stills are professionally built. Low cost and ease of operation make this a great starter still for those looking to get into distilling.
Commonly known as a pot still, this still can be used for distilling water or making flavored spirits such as whiskey, rum or vodka if you have the proper permits. This is an economical unit that is capable of producing 60-70% purity. Complete with garden hose attachments, tri-clamp, gaskets thermo-port and digital thermometer!
All you need is a beer keg or a distiller kettle! Low cost and ease of operation make this a great starter still for those that are getting into distilling.
Check our webstore above for our stills that come with premium kettles or new beer keg kettles. This still head is available with a premium stainless kettle. 2 inch distiller column with thermo-port & liebig condenser (total column height is 18 inches). Tri-clamp gasket and beer keg o-ring. This still is also available as a kit that you assemble.
Beer keg & stainless steel kettle not included. Our still columns and condensers are all made from copper pipe because it conducts heat better than stainless steel. This allows for better control and stability, and improves the outcome of the final distillation in terms of flavor. Copper also reduces bacterial contamination (which is why it is also used for water pipes) and absorbs the sulfur produced during fermentation.
Copper has been used to make stills since ancient times, and as successive generations have found, it remains the best option thanks to its unique properties and natural advantages in the distilling process. For superior results, use copper like the master distillers do. We use only silver solder with water soluble flux and food grade silver brazing to construct this device. It is built using the same methods that professional distillers use to build their stills. The distiller column is a 2" diameter type L copper pipe that is 12" tall.
We do not use cheap thin walled DWV pipe like our competitors. Ommercially mass produced Chinese stills are made from stainless steel only because it is cheaper than copper. Our stills are designed to combine the best of both worlds, the durability and ease of cleaning that a stainless steel kettle has to offer combined with the natural advantages of a copper column and condenser. The 2 stainless steel ferrule on the bottom of the unit allows the column to be clamped onto any stainless steel beer keg or commercially available kettle. The condenser is fully adjustable and detachable for cleaning and storage.
This distiller can be hooked up to a garden hose or a submersible pump, which can be used for a recirculating cooling system if a garden hose is not an option. Here are links to some of our other products.
All of our distillers are 100% guaranteed. This product has been tested for leaks. These units are made professionally from high quality materials and will deliver professional results. They are built to last a lifetime and can be passed on to future generations. This product is proudly hand made in the USA.
We stand behind our work! Assembly and cleaning instructions included. Thanks for shopping at Olympic Distillers! Note: Digital thermometer type may vary due to availability. Home distillation of alcohol is illegal in the USA and in many other countries.
We strongly discourage any unlawful use of this product, and we will not be held responsible for any injuries or damages caused by unlawful use or misuse of this product. In the USA, a Federal permit is required for making ethanol fuel. The item "Beer Keg Kit 2 inch Copper Pipe Moonshine Pot Still Distiller Column" is in sale since Thursday, December 5, 2013. This item is in the category "Home & Garden\Food & Beverages\Beer & Wine Making". The seller is "olympicdistillers" and is located in Port Angeles, Washington. This item can be shipped worldwide.
Brand: Olympic Homebrew Hardware
Model: Copperpro Pot Still
Country of Manufacture: United States
Type: Keg
Featured Refinements: Copper Moonshine Still