Aabratek 50 L Professional distiller STILL moonshine alambic ELECTRIC gnôle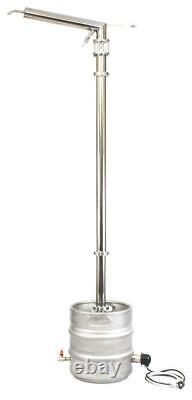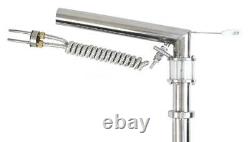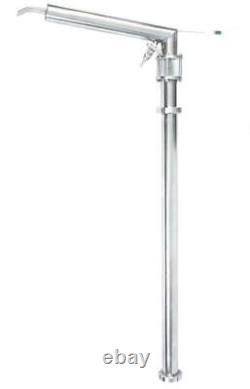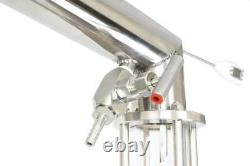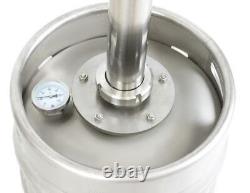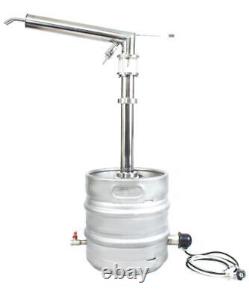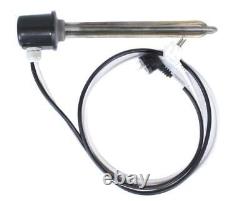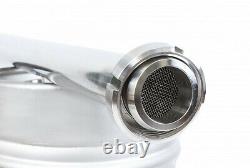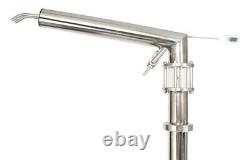 Professional stainless steel distiller with 50L boiler. With two part column, catalytic filter and electric heater aabratek LM/VM. Professionally manufactured still made of highest quality acid resistant stainless steel. This is a complete kit capable of producing the highest quality distillate up to 96,6% vol.
This kit is incredibly easy to use and is designed for domestic production of alcohol. A head made from the stainless steel and equipped with a 3-meter cooler thanks to applying the suitable technological solutions, and ensures a fast and effective operation at the minimum cooling water consumption. Moreover, an inspection opening enables to adjust the most efficient heating power. Its disassembling is extremely easy. We used a sealed SMS connection what and, in the case of necessity of the disassembling, it is enough to tighten it manually. One needs no additional tools. This solution saves Your time.
The cooler made of the acid-resistant, contrary to the frequently used thin-walled corrugated tubes, it significantly influences a durability of the cooling head. In any moment, without any risk one can close a needle valve and once again stabilise a column e. In the case of the power failure. An extremely precise outlet valve will enable to receive a distillate from one drop per second up to two litres per hour.
A column is a key element of the distiller which is responsible for the rectification. A set consists of a acid-resistant tube with a length of 130 cm. Using a threaded connection in the SMS technology facilitates quick assembling and disassembling of the entire stuff. The container with a capacity of 50 litres with the electric heating what allows to warm an input to the boiling temperature in circa 50 minutes.
The whole construction is made from the acid-resistance steel what ensures almost a lifetime performance of the device and allows for the safe contact with food. It is a completely safe construction. Its assembling and disassembling lasts for a few minutes.
The catalytic filter traps harmful sulfur and chlorine compounds. Cooler made of corrugated tube. Without any additional manufacturing smells. In the clean, quick and comfortable manner.
Distiller water-cooled (hose and hose connector included). You can connect a cooling water with one movement thanks to applying a quick coupling.
Discover Yourself and check-up what You can make. The set is ready to use just after its unboxing, assembling and filing. Please, feel invited to check the distillers on the boilers with the various volumes and the other columns on other our auctions.
The height of the boiler 70 cm the total height 240 cm. The diameter of the column.
Glass tubes to fill column. Copper springs to fill filter. 2000+1400W heater (UK and EU plugs available).
PVC hose for cooling water. Digital thermometer at the top of the column. (Bottle not included, just for scale). We are an importer and producer. We accept all major Credit/Debit Cards.
You can also pay with bank transfer in EUR, GBP, USD. We provide invoices with VAT separately displayed, for companies with EU VAT active number we can offer invoice with 0% VAT.
All packages are very well protected. The products are packed in a way that prevents the identification of content. We send to all countries of the world! We are legal company with over 10 years of experience in processing of stainless steel.
We specialize in the production of distillation equipment made of stainless steel. The devices that we propose are an excellent and modern product. We offer professional advice as well as very nice service. We invite you to cooperation! Express your opinion about our products!