50L 13 Gal Water Wine Alcohol Distiller Moonshine Still Boiler Stainless Copper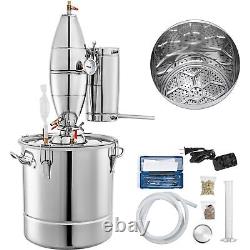 50L 13 Gal Water Wine Alcohol Distiller Moonshine Still Boiler Stainless Copper. NGZLQ50L000000001V2 50L 13 Gal Water Wine Alcohol Distiller Moonshine Still Boiler Stainless Copper QUALITY ASSURANCE This alcohol distiller is made of food grade 304 stainless steel a wear resistant and anti corrosion anti oxidation materials and has a stunning appearance after the thickening treatment and polishing. It has no harm to the body. The applying of argon welded methods efficiently avoids the health problems caused by other materials. The bucket associated with copper and solder constructs the stills. BUILD IN THERMOMENT There are two thermometers around the distiller.
One ranges from 10 to 40 the other attached to the top ranging from 0 150. The stainless steam plate and gauze bag preventing the burnout and working excellent during distillation. A temperature sticker on the fermenter can inspect the temperature when using the big tank as a fermenter pot. EXCELLENT PERFORMANCE The alcohol distiller has a large fermentation tank which can easily hold 50L/ 13.2 gallon liquid.
Its high plastic elastic seal is very rigorous and will not leak. It has a higher distillation purity with an output of 5 kg fine alcohol for 50 content by volume or 7.5kg for 30.
FULL SET EQUIPMENT It equipped with both fermentation and distillation accessories to has multiple usages. Submersible pumps allow water to circulate and cool better. Ball filters white wine steam and improves the quality of the wine. Sealed with an in line silicone seal eliminating the need for back and forth disassembly the seal works very rigorous and will not leak. Stainless steel steam plates and gauze bags prevent the burning of the distiller and ensure its effectiveness.
WIDE APPLICATION Designed for meeting the various demands of the customers you can make different kinds of our items in the Moonshine stills. The tank can use as a fermenter to fermented liquors such as beer rice wine brandy whiskey wine and seasoners like soy sauce and vinegar. Its heating methods can be fire as well as electric heating devices. Product DescriptionStainless Steel Alcohol Distiller Moonshine Still This alcohol distiller moonshine still used high quality and safety stainless steel and argon welding techniques with two real time thermometers large capacity fermentation tank and advanced cooling devices can hold 50 Liter/ 13.2 Gallon liquor and have excellent performance in the alcohol brewing and steaming process.
And Its widely applied in both commercial place and households by its distinctive features and convenience. Quality assurance Build in thermometer Excellent performance Full set equipment Key Features 304 Stainless Steel With selected high wearable stainless steel the quality of the product can well ensure. The excellent cooling design makes the distilled liquor more concentrated.
Argon welded body with a stunning appearance efficiently avoids the health problems and extends its product life cycle. Advanced Thermometer Two thermometers monitor the temperature inside the pot in real time.
Accurately display the temperature of the wine. It ranges from 0 150 and 10 40 and meets your needs during steaming and fermentation. With a multi function exhaust check valve for the steamer two thirds of the water can add to it only air can be exhausted.
Large Capacity This hydrolat distiller can hold 50 Liter 13.2 Gallon liqour. It's output is 5 kg fine alcohol for 50 content by volume or 7.5kg for 30. It's just a relatively correct reference date considering the different grain and ways of fermentation and distillation. Cooling Design With the advanced cooling device you can follow four procedures to get more concentrated alcohol.
The submersible pumps can make the water better circulation and cooling. Balls can work to improve wine purity. Complete Accessories Highly equipped with both fermentation and distillation accessories.
An in line silicone seal works rigorous and will not leak. With load bearing handles on both sides of the pot for a easier install and use. Drain port makes it easy to replace the water in the cooling bucket. Multipurpose Usage The equipment works as distillers and doesn't need to separate the brew directly fermenting it in the machine and brewing it. As a multi purpose machine it can also use as a fermentation tank to fermented alcohol liquor and seasoner like brandy whiskey and vinegar. Both fire and electric heating are available to it. Specifications Material304 stainless steel Distiller Capacity50 L/13.2 Gallon Fermentation Tank Size35 x 35 cm/ 13.78 x 13.78 inch Input quantity10 kg rice for example Output quantity3.5kg for alcohol content of 50 5kg for alcohol content of 30 Wine steaming time1 2 hours including heating time Package Content 1 x Alcohol Distiller Moonshine Wine Making Boiler 1 x Water Pump 1 x Pack Of Balls 1 x 100ml Graduated Cylinder 1 x 2m Silicone Tube 1 x Thermometer 1 x 12g Spoon 1 x Exhaust Valve 1 x Seal Sheet.
Counttry of Origin is UK. This item is in the category "Business, Office & Industrial\Other Business & Industrial".
The seller is "virventures-uk" and is located in this country: GB. This item can be shipped to United Kingdom.
Brand: VEVOR
UPC: 609832070924
MPN: NGZLQ50L000000001V2
Model No.: NGZLQ50L000000001V2
Type: Beer & Wine Making