4 inch stainless steel pot still head 304 SS Home Distillery-Shotgun Condenser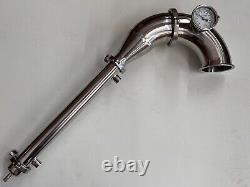 Built from heavy gauge 304 stainless steel, the 4 inch stainless steel pot still head can be used for alcohol distillation with some copper mesh or for steam distillation of essential oils. This unit uses a 5 port tube and shell shotgun condenser for efficient vapor knockdown during high flow rates. Thanks for shopping at Olympic Distillers!
Home distillation of alcohol is illegal in the USA and in many other countries. We strongly discourage any unlawful use of this product, and we will not be held responsible for any injuries or damages caused by unlawful use or misuse of this product. In the USA, a Federal permit is required for making ethanol fuel.