30L Professional electric stainless steel distiller STILL moonshine alembic GAS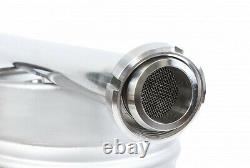 Professional stainless steel distiller with 30L boiler Reflux still. Professionally manufactured distiller made of highest quality acid resistant stainless steel. This is a complete kit capable of producing the highest quality distillate up to 94-96% vol. This kit is incredibly easy to use. The presented set will perfectly work first and foremost in the distillation of the flavoured distillates.
One can prepare slivovitz, gin and even whisky. This equipment is reliable and extremely productive. It is a completely safe construction. Its assembling and disassembling lasts for a few minutes.
An internal method of reflux consists in assembling a cooler inside a column - these columns look less impressive', however they are the most productive. While internally cooled by a cooling fluid vapours which are heavier than alcohol are condensed what translates into a high alcohol strength that is up to 94-96% alcohol by volume.
The distillers with an internal reflux can be handled very easy and stabile. For example: 50L of mash with a strength of circa 20% gives 9L of distillate with a strength of 94%. Without any additional manufacturing smells. In the clean, quick and comfortable manner. Distiller water-cooled (hose and hose connector included).
You can connect a cooling water with one movement thanks to applying a quick coupling. Discover Yourself and check-up what You can make. The set is ready to use just after its unboxing, assembling and filing. Please, feel invited to check the distillers on the boilers with the various volumes and the other columns on other our auctions.
The height of the boiler 40 cm the height of the column 120 cm the total height 150 cm. The diameter of the main column 48,3 cm cooler made of corrugated tube DN12.
PVC hose for cooling water. Digital thermometer at the top of the column.
(Bottle not included, just for scale). We are an importer and producer. We accept all major Credit/Debit Cards. You can also pay with bank transfer in EUR, GBP, USD. We provide invoices with VAT separately displayed, for companies with EU VAT active number we can offer invoice with 0% VAT. All packages are very well protected. The products are packed in a way that prevents the identification of content. We send to all countries of the world!
We are legal company with over 10 years of experience in processing of stainless steel. We specialize in the production of distillation equipment made of stainless steel. The devices that we propose are an excellent and modern product.
We offer professional advice as well as very nice service. We invite you to cooperation! Express your opinion about our products!