2 Tri Clamp Gin Basket 304 Stainless Steel Botanical Basket for Moonshine Still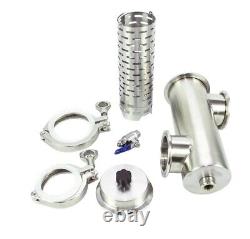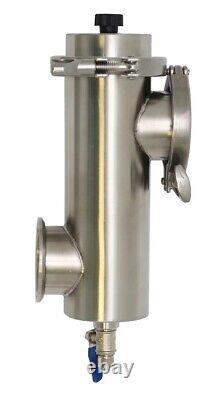 Sign up to receive special insider notifications of deals, promotions, and new items! 2 Tri Clamp Gin Basket Stainless Steel.
Our 304 stainless steel gin basket is designed for flavoring moonshine with endless variety of flavorings: lemon peels, spices, nuts, honey comb, berries etc. This botanical basket is to be attached to the column with the included 2 tri-clamp and a gasket. It has a lid with plastic handle and a clamp for secure attachment.
It is also supplied with a drain tap on its bottom so that you could get rid of essential oils remnants with one turn. You get a mesh basket with a foldable handle to put this one out, change flavorings and put it back without getting burned. What's inside the package? Mesh basket with false bottom. 2 clamp with silicone gasket for outlet. 2.5 clamp with silicone gasket for lid. At AVAPARTS we pride ourselves on outstanding customer service, as we care about each client and do our best to ensure you have a pleasant customer experience. We are dedicated to find and offer our customers amazing items of proven quality.
We provide tracking numbers for each order. We accept items for return in their original packaging and complete set. 2 Tri Clamp Condenser Shotgun Dephlegmator for Reflux Still Stainless Steel.
Stainless Steel Proofing Parrot with Drain for Distilling Alcohol Whiskey Still. 2'' Stainless Steel Carbon Filter for Alcohol Filtration with Activated Carbon. DISTILLERS PROOFING PARROT 304 STEEL FOR USE WITH HYDROMETER.