12/20L Distiller Alambic Moonshine Alcohol Still Stainless Copper Wine Essential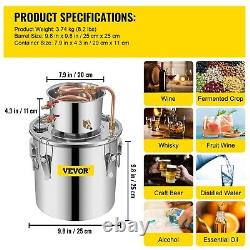 3/5 Gal Distiller Alembic Moonshine Alcohol Still Stainless Copper DIY Home Brew Water Wine Essential Oil Brewing Kit. For bulk orders, ask for a special discount. Our products are of the highest quality.
Our products are of very high quality compared to other similar items. It can be said with responsibility. Food-grade materials, including silicone, stainless steel, and copper. Rapid Cooling: The distillery kit adopts an open cooling method. The copper coil has rapid thermal conductivity and has a large contact area with the coolant, providing a lower distillation temperature.
The rubber pad under the condenser can insulate and accelerate cooling. Easy to Operate: The alcohol still kit has a real-time thermometer on the lid, with a dual-display of Celsius and Fahrenheit, which is convenient for monitoring the temperature of the wine during the distillation process.
Durable & Tight Seal: Unlike regular tubes, we use food-grade silicone tubes, which are flexible and tough, and are not easy to bend to ensure a good seal. Four buckles and silicone gaskets inside the lid help to seal tightly. In addition, the package has a one-way exhaust valve, which can be easily used during the fermentation process.
Versatile Application: There are many ways to use our alcohol still kit. According to your preferences, you can make Whiskey, Wine, Brandy, Rum, Tequila, Vodka, Water Distiller, Ethanol, Essential Oils, etc. The thickened bottom allows various heating methods, including gas stoves, firewood, electric ceramic heaters, etc. 3 Gal (12 L) Specifications.
Material: Stainless Steel + Red Copper. Boiler Barrel Capacity: 3 Gal / 12 L. Boiler Barrel Size: 9.8"x9.8" / 25x25 cm.
Condenser Keg Capacity: 0.92 Gal / 3.5 L. Condenser Keg Size: 7.9" x 4.3" / 20x11 cm. Barrel Thickness: 0.03 / 0.7 mm. Copper Coil Diameter: 0.39 / 10 mm.
Weight: 8.2 lbs / 3.74 kg. 5 Gal (20 L) Specifications. Boiler Barrel Capacity: 5 Gal / 20 L.
Boiler Barrel Size: 11.8"x11.8" / 30x30 cm. Weight: 10.3 lbs / 4.68 kg. 1x One-way Air evacuation valve. Thanks for visiting our store.